Exams
Exams at the university may be a bit different from exams you're used to from school. We've asked experienced students about what to expect. You can do it! 
Exam preparation tips
At the beginning of the semester:
Check your university's formal exam requirements. At some universities, you must register for your exams within a fixed deadline.
Check how your courses are organised. This may vary from course to course.
Check which type of exam(s) you're going to have. Universities offer different types of exams, and it's important to know which one you're going to have when studying, as different types of examination need different revision methods.
Check how many exams you're going to have during the semester and make a study plan.
Check the rules and instructions for your exam(s). For some exams, you're allowed to bring your personal notes, course literature, or other material. Sometimes you're even expected to bring your own computer or a calculator.
Use previous exam questions when revising for your exams to get familiar with how the exam will be. It's also an efficient way to work on your time management – you'll get an idea of how much time you have for each question.
You may want to revise on your own, but for many students it's more efficient to work in groups. Just make sure that the group is focused on the subject 😉
Learn tricks from the top students. Do they have a different study strategy than you have?
Start studying for your exams early.
Take breaks while you read. No one can be super-efficient all day long.
Avoid stress: remember to check the time and location of your exam and how to get there.
Prepare the items you want/need to bring for the exam, such as:

Water and food (if you're allowed).
Student ID or a candidate number?
Computer? Remember to bring your own charger too.
Calculator? Remember to bring extra batteries.
Personal notes, course literature (if you're allowed).
Eat healthy, get some fresh air, and sleep well.
For digital examinations:
Make sure you have an active user account and have installed the necessary software and programs on your computer.
Get up early and eat a healthy breakfast.
Ensure you arrive at the exam venue at least 15 minutes before the examination.
Remember to bring the items you'll need for the exam. Mobile phones and other digital aids (such as smart watches) are often not allowed.
Read the questions carefully.
Where to start? Some students like to begin with what they can easily answer to know how much time they have for the difficult parts. Other students prefer to get the difficult things out of their way first. Try out what works best for you.
Structure your time and stick to your plan.
Use all the time allocated – it may be worthwhile to read through everything before you deliver.
Remember that you're supposed to show that you can apply what you've learned, and not just to recount the material.
Don't panic if you get ill – you'll probably get a second chance. This is usually also the case if you fail the exam or if you must withdraw.
It's perfectly normal to be nervous. However, the more prepared you are, the better you'll be able to cope with it.
The list of exam preparation tips is also available as PDF document.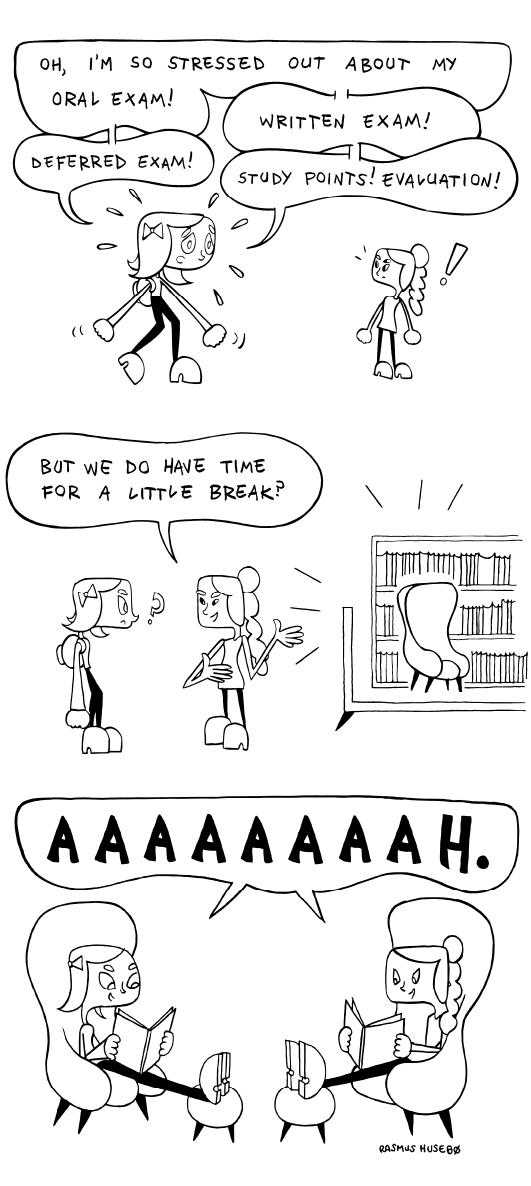 Other videos
---
Exams, assignments, essays, meeting friends, working out, washing clothes… Too much on your plate? Basic…
As a student, you have to get used to working independently and managing your time…
Sometimes it's challenging to stay motivated when things don't go as planned or when you…